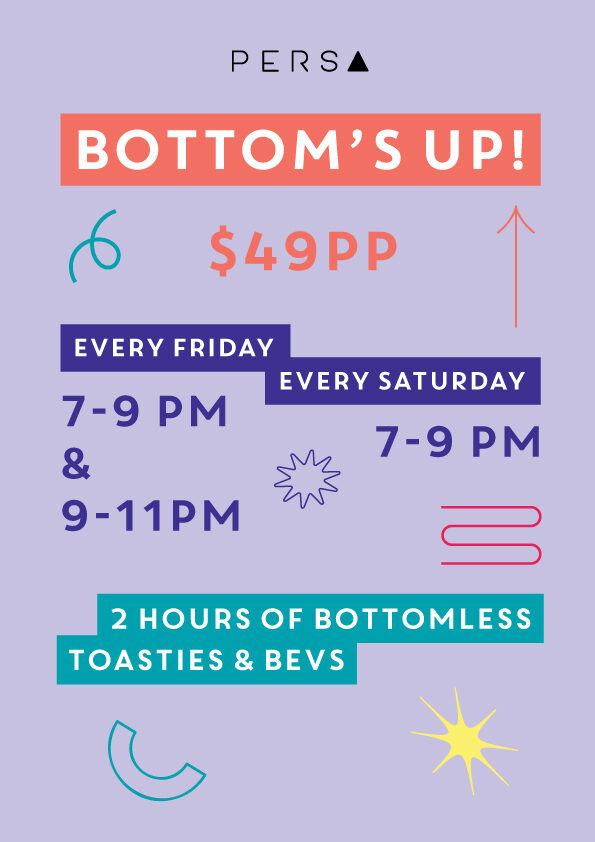 BOTTOM'S UP
Bring your pre-game to Brunswick Street every Friday and Saturday from 7pm!
The vibes will be strong and it'll be the perfect spot to kick your night off.
Chow down on unlimited toasties, including…
Cheese, Cheese & Tomato, Ham, Cheese & Mustard, Vegetarian, Pizza plus epic weekly specials
We'll have all your house favourites ready to get pouring!
Whether you want to be a little classy with some cocktails,
Espresso Martini, Cosmo, Fruit Tingle, Pornstar Martini, Dark & Stormy + Mimosa
Sip away on spritzes,
Orange & Mandarin Spritz, Ginger & Mango Spritz, Strawberry & Mint Spritz + Pink Hibiscus Spritz
…or some not-so-basic basics
Vodka, Gin, Whiskey, Rum + Tequila
And yeah, there's tap beers, ciders and wine on the menu too (plus all the soft drinks and juices you could ask for).
So basically the gist is…
$49pp | every Friday from 7pm-9pm + 9pm-11pm + Saturday from 7pm-9pm
Perseverance practices responsible service of alcohol and provides a safe environment for patrons. Management and staff will prevent patrons from becoming intoxicated and reserves the right to refuse service of alcohol if required. Patrons under the age of 18 will not be served. One drink per person will be enforced.